Whether you're already a vaper or are still a smoker and are on the fence about making the switch, you're well aware of the primary benefit that vaping offers: It provides a satisfying way for you to consume nicotine without inhaling smoke. Around the world, tens of millions of people have switched to vaping and given up smoking completely. Vaping also costs significantly less than smoking, so making the switch can help you save a significant amount of money each year.
There's an additional benefit of vaping, though, that many people never consider: It's the fact that vaping gives you greater control over your nicotine consumption than any other type of nicotine use. With other nicotine products, there's no easy way to ramp down your usage slowly. You could smoke part of a cigarette and throw the rest away, but most people wouldn't do that – and with traditional nicotine replacement products, there are usually only two different strengths available. Once you've stepped down to the lower strength, there's no easy way to decrease your consumption further.
With vaping, controlling your nicotine intake is incredibly easy because you can do it in two ways – by vaping less often and by reducing the nicotine strength of your e-liquid. It's so easy to use vaping to reduce your nicotine consumption, in fact, that many people who switch to vaping end up quitting nicotine completely. Would you like to quit nicotine and join the ranks of people around the world who have either switched to nicotine-free vapes or stopped vaping entirely? In this article, we'll walk you through the process and show you exactly how to use vaping to reduce your nicotine usage.
Vape Freely Until You've Quit Smoking
Before you begin to think about reducing your nicotine intake, you need to reach the point at which you're no longer using cigarettes at all because smoking is counterproductive to your goal of quitting nicotine. E-liquid needs to be the only form of nicotine that you consume because you have complete control over the nicotine content that way. With cigarettes, on the other hand, you can't control the nicotine content at all.
If you're currently a smoker, you'll probably find it easiest to switch fully to vaping if you use a vaping device with very efficient nicotine delivery. If you use a device that delivers nicotine almost as efficiently as a cigarette, you should find it relatively easy to simply stop smoking and start vaping. If you find it necessary to transition from smoking to vaping more gradually, though, there's no reason to feel unhappy with yourself; no two people have exactly the same vaping journey. Don't worry about stepping down to a lower nicotine strength until you've stopped smoking completely.
Here at Innokin, we've worked harder than anyone else in the industry to develop a wide array of beginner-friendly vape kits that help to make the transition from smoking to vaping as easy as it can possibly be. Innokin Klypse is one of the options that we think you'll enjoy if you're new to vaping.
The Klypse pod system uses refillable pods, so it adds an extra level of flexibility to your vaping experience because it allows you to buy bottled e-liquid rather than using pre-filled pods. Although filling your own pods is slightly less convenient, it allows you to enjoy a wider variety of different flavors because you can use virtually any bottled e-liquid on the market.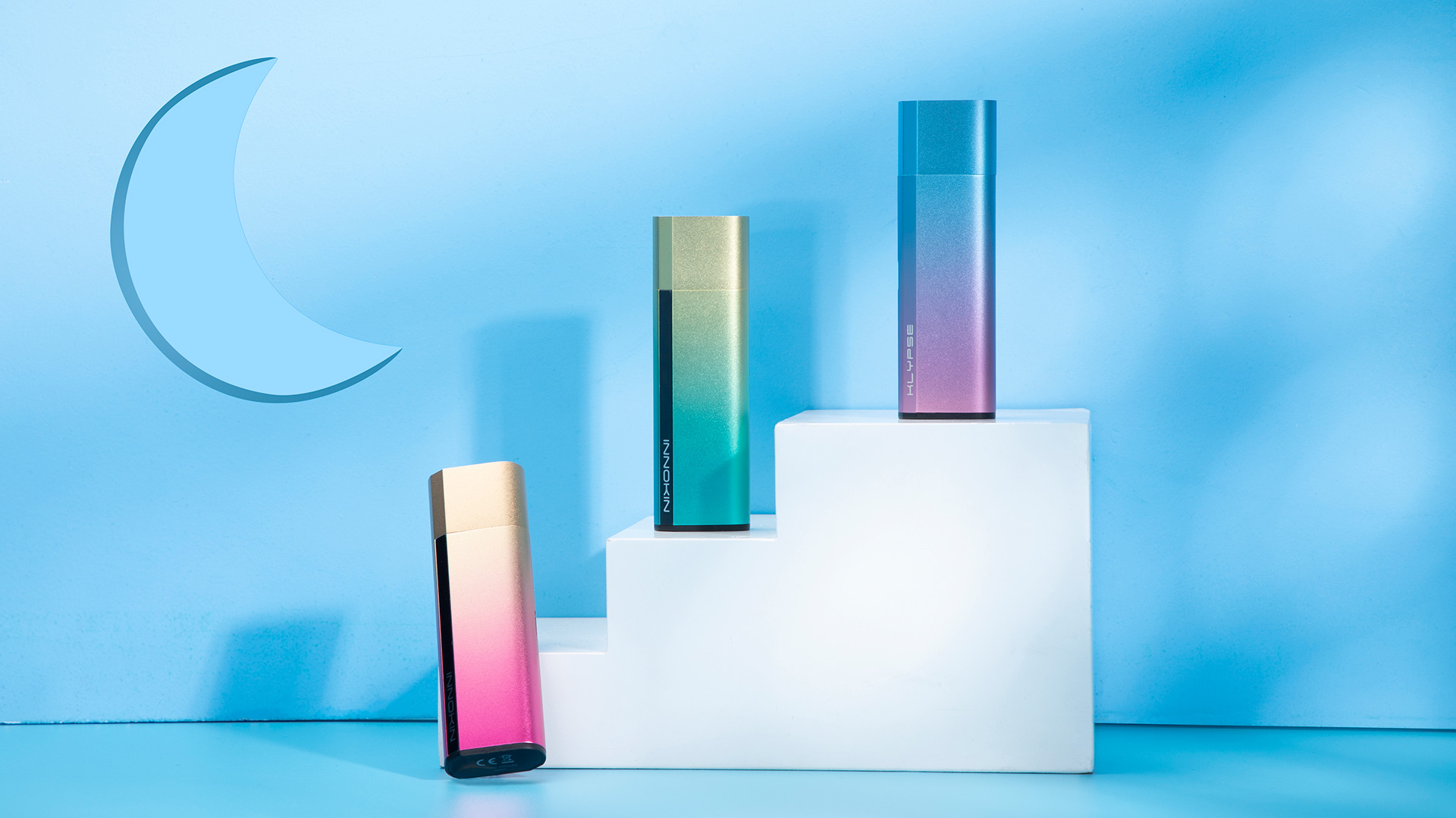 Reduce Your Nicotine Strength When You're Ready
Once you've reached the point at which you've become fully accustomed to vaping and no longer use or think about using tobacco at all, it's time to take the first step toward quitting nicotine by reducing your nicotine strength. Currently, you're probably using the highest-strength nicotine salt e-liquid available in your region, which is typically 20 mg/ml in the United Kingdom and Europe and 50 mg/ml in other regions.
Most nicotine salt products such as disposable vapes, pre-filled vape pods and bottled nicotine salt e-liquids are available in two strengths. In addition to the higher strengths mentioned above, you can usually find those products in lower strengths of about 10 mg/ml in the United Kingdom and Europe and 25 mg/ml in other regions. In many cases, you can switch to the lower strength without changing the hardware or e-liquid flavor you're using. Switch to the lower strength and give yourself time to get used to it before continuing with the steps in this guide.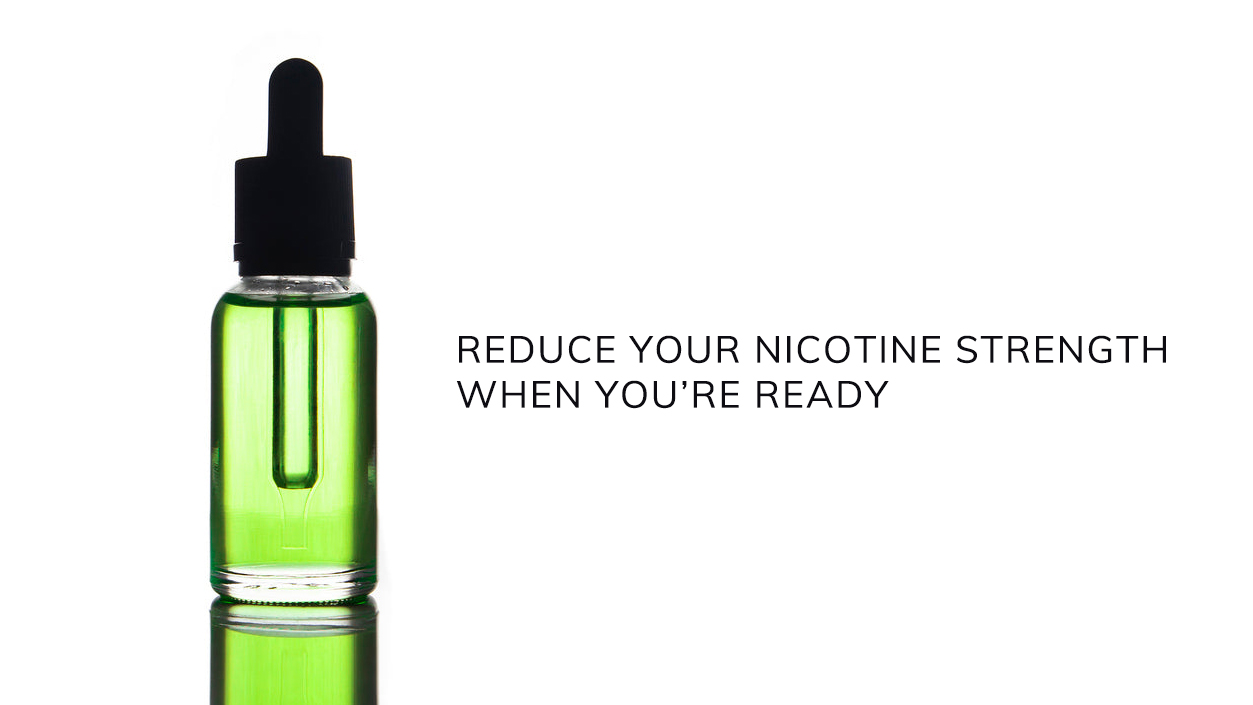 Use a More Powerful Device When Switching to Low-Nicotine E-Liquid
Once you've gotten used to the 25 mg/ml or 10 mg/ml nicotine strength and are ready to reduce your nicotine intake further, you're probably going to find that making the next step will require you to switch from nicotine salt e-liquid to vape juice with freebase nicotine. That's because e-liquid makers usually don't make nicotine salt e-liquid in strengths lower than 10 or 25 mg/ml. Freebase nicotine e-liquid, on the other hand, is typically available in strengths of 6 mg/ml and 3 mg/ml in all regions. If you aren't using a refillable vaping device already, you'll need to buy one at this point – and because it's a pretty big step down to go from a nicotine strength of 10 or 25 mg/ml to 3 or 6 mg/ml, you'll probably want to buy a more powerful device than the one you're currently using. The increased vapor production of your new device will compensate for the lower nicotine strength of your e-liquid.
Here are a few of the Innokin vaping devices that we think you'll love if you're reducing your nicotine intake and need a vape kit that offers a little more power.
Innokin Sensis EZ Pod Mod:

The Innokin Sensis EZ is quite simply the most advanced pod vaping system on the market, and we've developed some exclusive technologies for this device that you won't find anywhere else. Our new FØ vaping mode uses Alternating Current to provide precise frequency-based power delivery and unlock purer, more vivid flavors. The Sensis EZ also improves flavor quality and coil life by refreshing your coil automatically between puffs.

Innokin Kroma Z Pod Mod:

The Innokin Kroma Z is a good choice if you want a device that offers a bit more power but won't significantly increase the complexity of your vaping experience. Just fill the magnetic pod and vape. The simple push-pull coil replacement system gives you great freedom in customizing your vaping experience.

Innokin Kroma 217 Vape Mod:

The Innokin Kroma 217 is our flagship vape mod. With a maximum operational power of 217 watts, the Kroma 217 produces room-filling vapor clouds and can truly unlock the maximum potential of a low-nicotine e-liquid.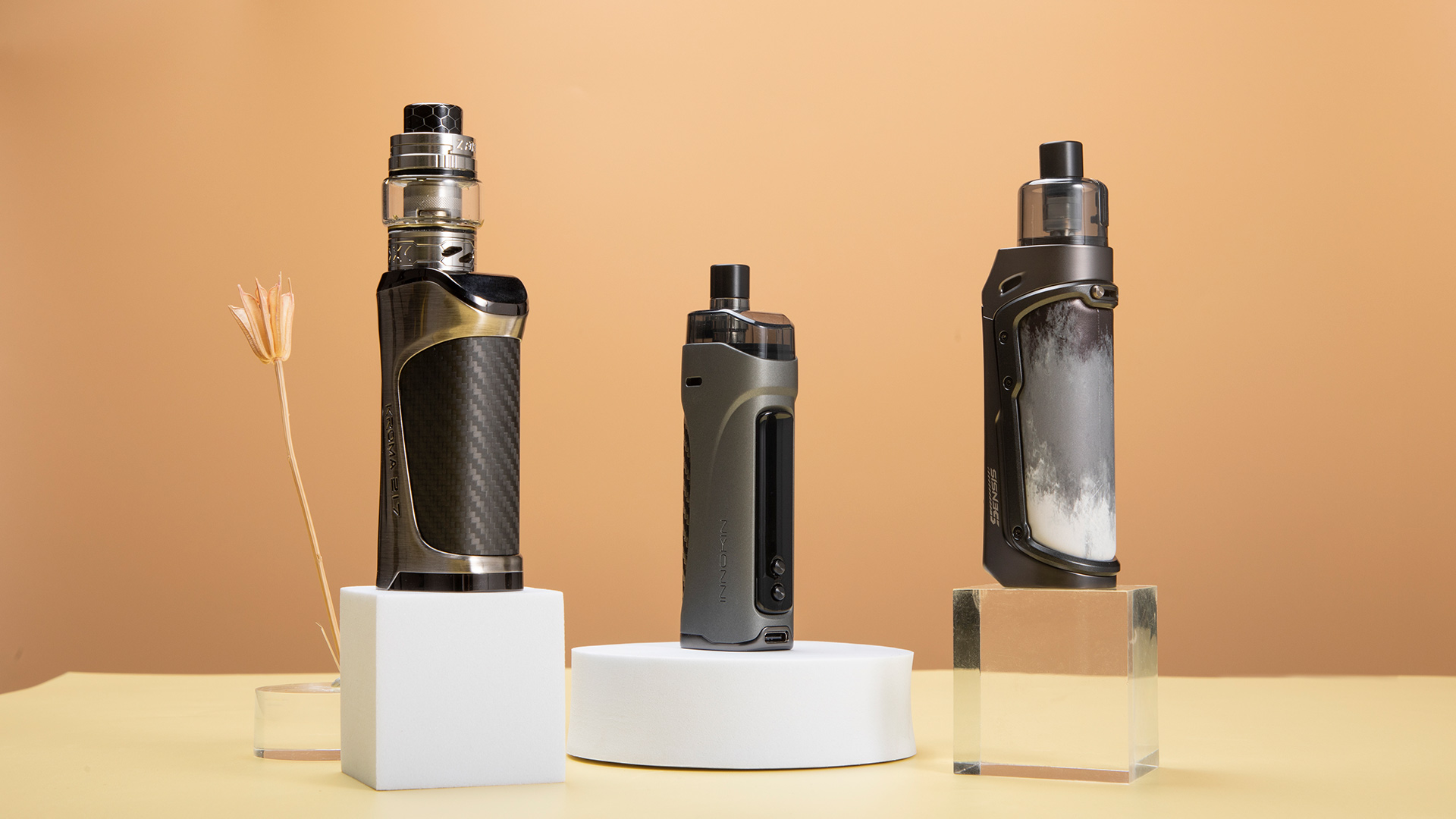 Mix Your Own E-Liquid When You Can't Reduce Your Nicotine Strength Further
With most commercially produced e-liquids, the lowest nicotine strength that you can find is 3 mg/ml. The next step below that is nicotine free. Dropping from 3 mg/ml to nicotine free, however, is a much bigger step than you might realize. You can quit nicotine much more easily if you make it a more gradual process, and you'll do that in two ways: by reducing how often you vape and by mixing your own lower-nicotine e-liquids.
Reducing how often you vape is fairly simple if you use a device with a built-in puff counter. Most vape mods – and all three of the devices listed in the previous section of this article – have puff counters that allow you to track your daily usage. When you're ready to start quitting nicotine, you should start writing down your daily puff count with the goal of reducing the count by at least one puff per day. If you currently vape 150 times per day, for example, your goal is to get the puff count as low as possible – maybe even as low as 10 puffs or fewer – within the next 150 days. That doesn't sound so difficult, right?
Meanwhile, you'll want to begin gradually reducing your nicotine strength. You can do that by buying your favorite e-liquid in 3 mg/ml and nicotine-free strengths and mixing the two together in a large bottle. If you mix the two strengths in equal amounts, you'll have an e-liquid with a strength of 1.5 mg/ml. Once you're used to that, mix two parts nicotine-free e-liquid with one part 3 mg/ml e-liquid for a strength of 1 mg/ml.
If you continue mixing e-liquid with lower and lower nicotine content while simultaneously lowering your puff count each day, you'll eventually reach a point at which you're using vape juice with almost no nicotine and are barely vaping at all. When you get to that point, you're ready to quit nicotine completely. You can continue using nicotine-free e-liquid just for the pleasure of it, or you can stop vaping – the choice is yours. Quitting nicotine is an enormous accomplishment, and if you've gotten this far, we'd like to congratulate you.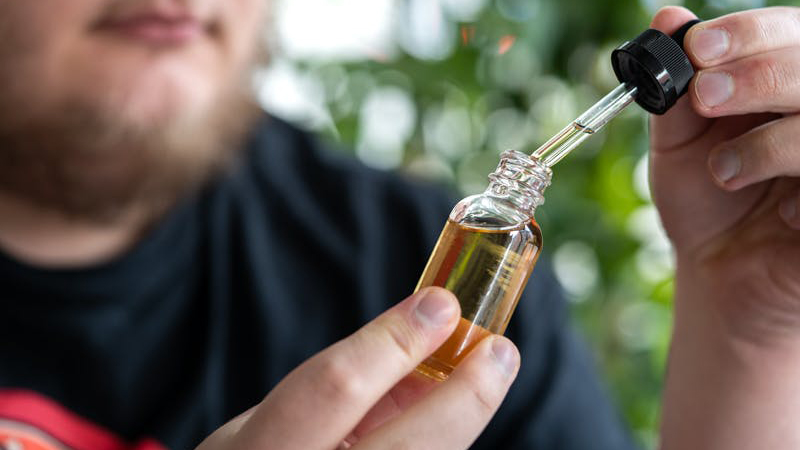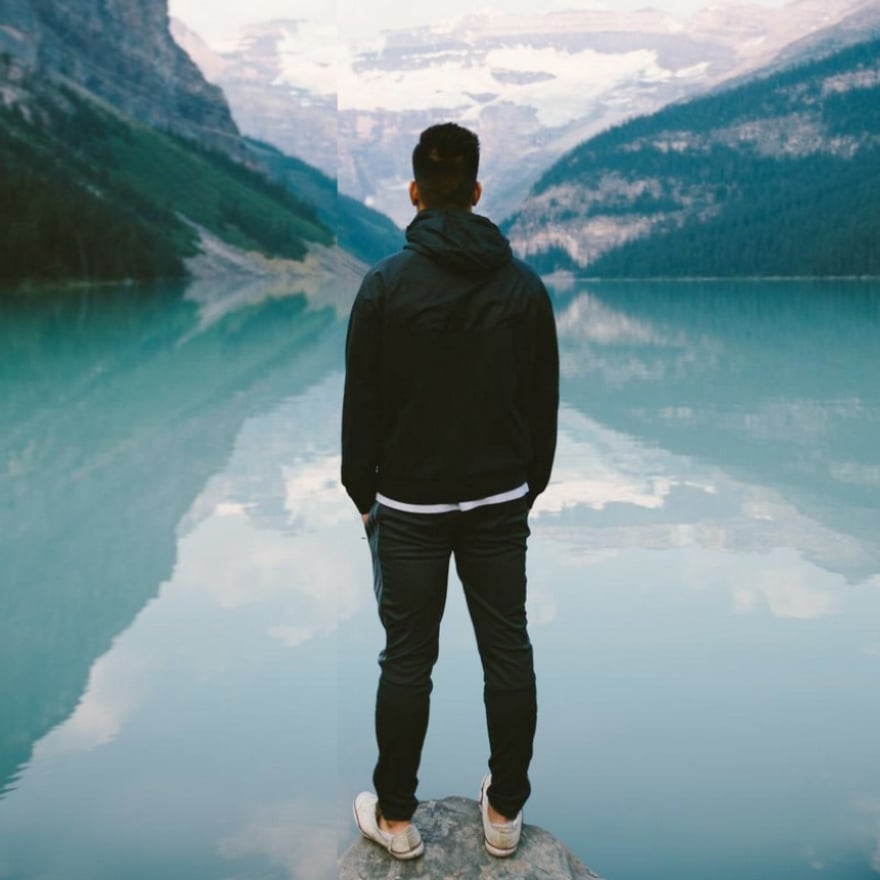 Hey! Hemok here, a vaping enthusiast with a passion for helping people quit smoking. My uncle was diagnosed with lung cancer a few years ago after smoking for more than 40 years. I do understand that quitting smoking isn't only a physical issue but also a mental one. It's just hard to go "cold turkey". I believe that vaping is one of the best solutions to make the switch only if you do it in the right way, and that's why I am here to share :)