When you consider the different components of your vaping setup, it's possible that the atomizer is the most important item. Your vaping device, after all, only manages the power delivery; it's the atomizer that actually generates the vapor. Therefore, the atomizer determines the vapor production and flavor quality more than any other component in your vaping setup. If you want to instantly transform your vaping experience, a new vape tank – or a new vape kit that includes a tank – is definitely the thing you want to buy.
We're getting a little ahead of ourselves, though. What is a vape atomizer, and why is the atomizer so important for the quality of your vaping experience? What are the different types of atomizers for vaping? Reading this article, you're about to become an expert.
What Is an Atomizer?
The atomizer is the component of your vaping device that's responsible for generating the vapor you inhale. Whether you use a vape tank, a rebuildable atomizer or a vape pod, the purpose of the atomizer is the same. The three things every vape atomizer must provide are:
A well or reservoir to hold your e-liquid.
A heating surface to vaporize the e-liquid.
A wick to transport the e-liquid from the reservoir to the heating surface.
When you buy a full vape kit, you receive a vaping device and a compatible atomizer in the same package. If your current atomizer has a threaded connection, though, that creates the possibility of replacing it with a different atomizer.
So, what are the different types of vape atomizers – and what type of atomizer is right for you? That's what we'll discuss next.
Mouth-to-Lung Tank (MTL Tank)
Most Popular MTL Tanks: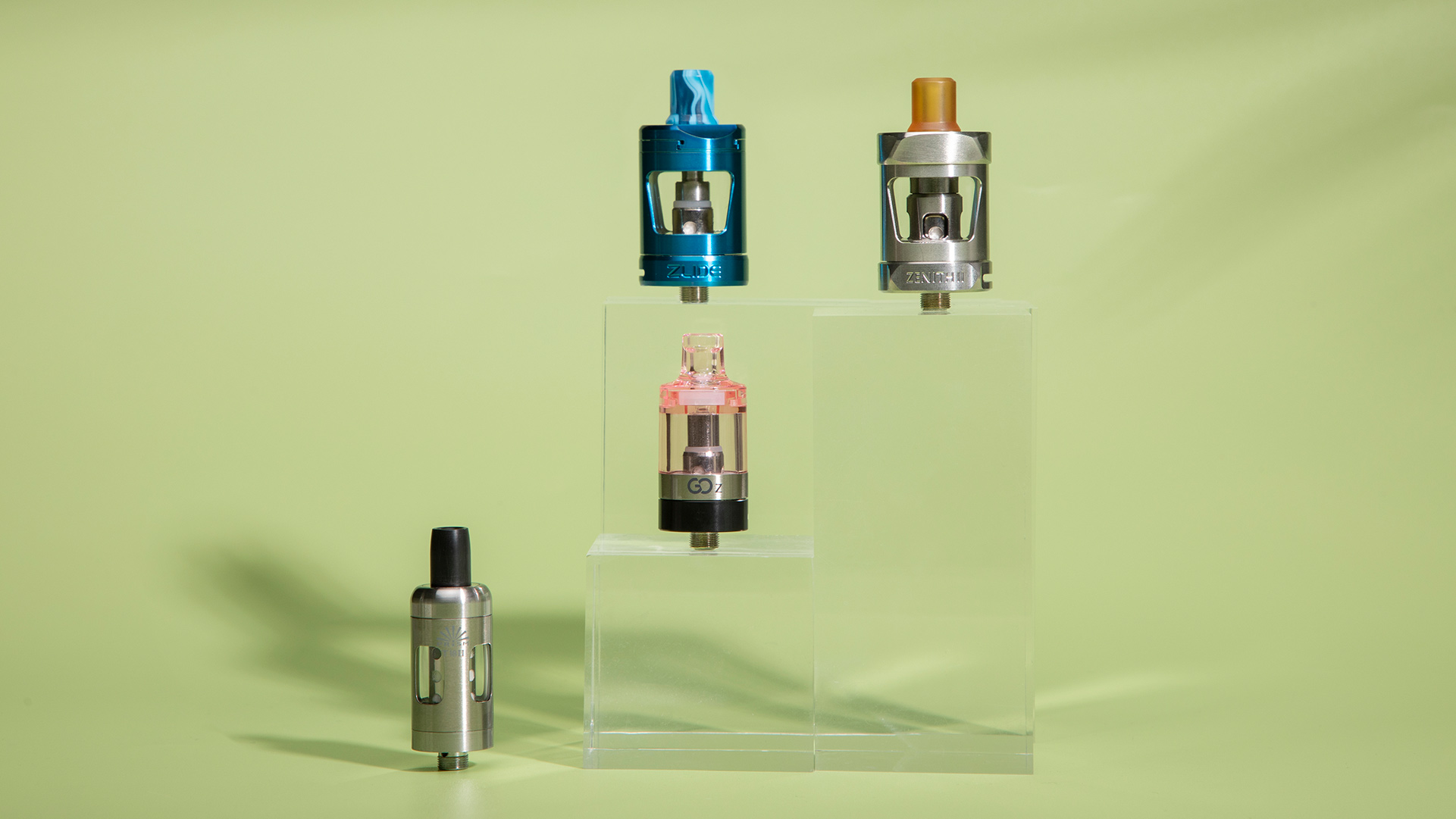 A mouth-to-lung vape tank is a tank-style atomizer that's designed to support the mouth-to-lung inhaling style and will work with most threaded vape tanks and vape mods. Being designed for the mouth-to-lung vaping style means that you'll use the tank by drawing the vapor into your mouth before inhaling it. Since that's also the way you smoke a cigarette, MTL tanks tend to be the most popular vape atomizers among those who are either new to vaping or simply love a vaping setup that produces a very strong throat hit. Because most people who use mouth-to-lung tanks do so because they enjoy throat hit, MTL tanks are almost always used in conjunction with higher-nicotine e-liquids.
Before you buy a tank-style atomizer for your vaping device, you'll want to confirm that the device and the tank use the same thread style. Most vaping devices and tanks use the 510 thread style, so you should have no problem there. You'll also want to make sure that your vaping device supports the tank's recommended operational wattage. You're also unlikely to have a problem in this area because MTL tanks usually have very low wattage requirements.
Learn more about the best MTL vape tanks and discover the different vaping styles.
MTL Vape Tanks: Summary
Compatible with most 510-threaded devices
Low wattage requirements
Provides ample e-liquid storage
Tight airflow characteristics like a cigarette
Provides strong throat hit and refined flavor
Direct-to-Lung Tank (DTL Tank)
Most Popular DTL Tanks: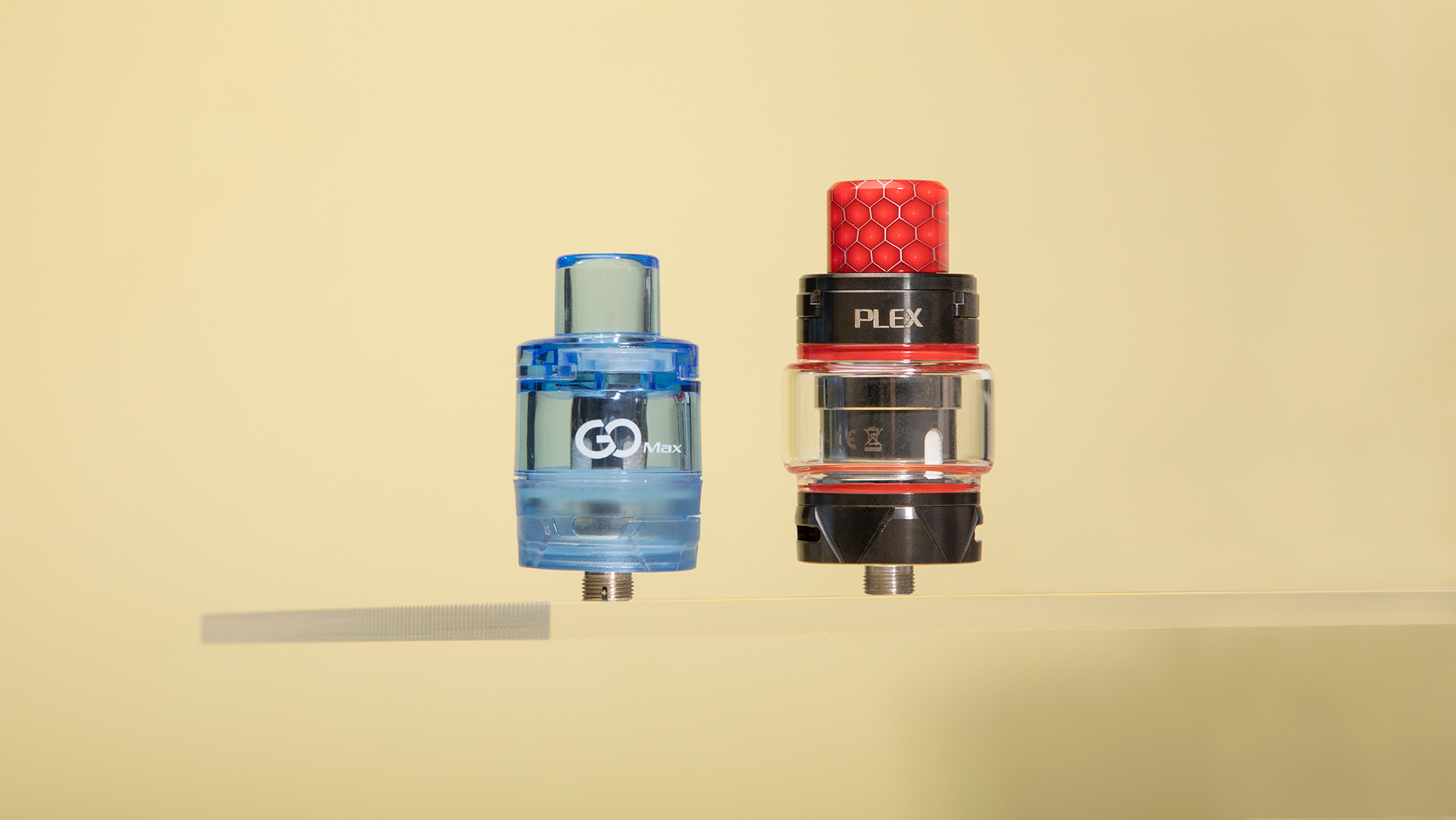 A direct-to-lung vape tank is a tank-style vape atomizer that's designed with very large airflow vents and a wide mouthpiece to facilitate deep inhalation directly into the lungs. Because DTL vape tanks produce such large vapor clouds, they're not intended for use with high-nicotine e-liquids. That doesn't mean you'll have a less-than-satisfying experience if you buy a DTL tank and switch to a lower-nicotine e-liquid. Because a DTL tank produces such large vapor clouds, you'll still get an appropriate amount of nicotine and will still feel completely satisfied.
Direct-to-lung tanks are for vapers who prioritize intense flavors and big clouds over cigarette-like throat hits. Although a DTL tank can produce enormous clouds, you'll experience very little throat hit when using a DTL tank because of the low nicotine strength of the e-liquid.
Since a direct-to-lung vape atomizer will have 510 threading, it'll fit on most vape pens and mods. Before buying a direct-to-lung tank for your vaping device, however, you'll want to make sure that the device can operate within the tank's recommended wattage range. In most cases, a DTL tank requires a device capable of delivering at least 30 watts – and sometimes, the wattage requirement for a DTL tank can be much higher than that. DTL vape tanks will work with almost all larger vape mods. If you have a very small vape pen, though, you may need to upgrade your vaping device if you want to use DTL tanks. Learn more about sub-ohm vaping.
In the world of direct-to-lung vape atomizers, the most important technological development of the past several years is the mesh coil. Here at Innokin, we are at the forefront of mesh coil technology with our Plex3D coil, which is used by both the Innokin Plex and Innokin GoMax tanks. The Plex3D coil uses a heating surface made from a three-dimensional mesh matrix with an increased surface area for vivid flavors and huge cloud production.
DTL Vape Tanks: Summary
Compatible with most 510-threaded devices
Higher wattage requirements
Provides ample e-liquid storage
Open airflow characteristics for deep inhaling
Provides big clouds and bold flavors
Vape Pod
Most Popular Pod Vapes: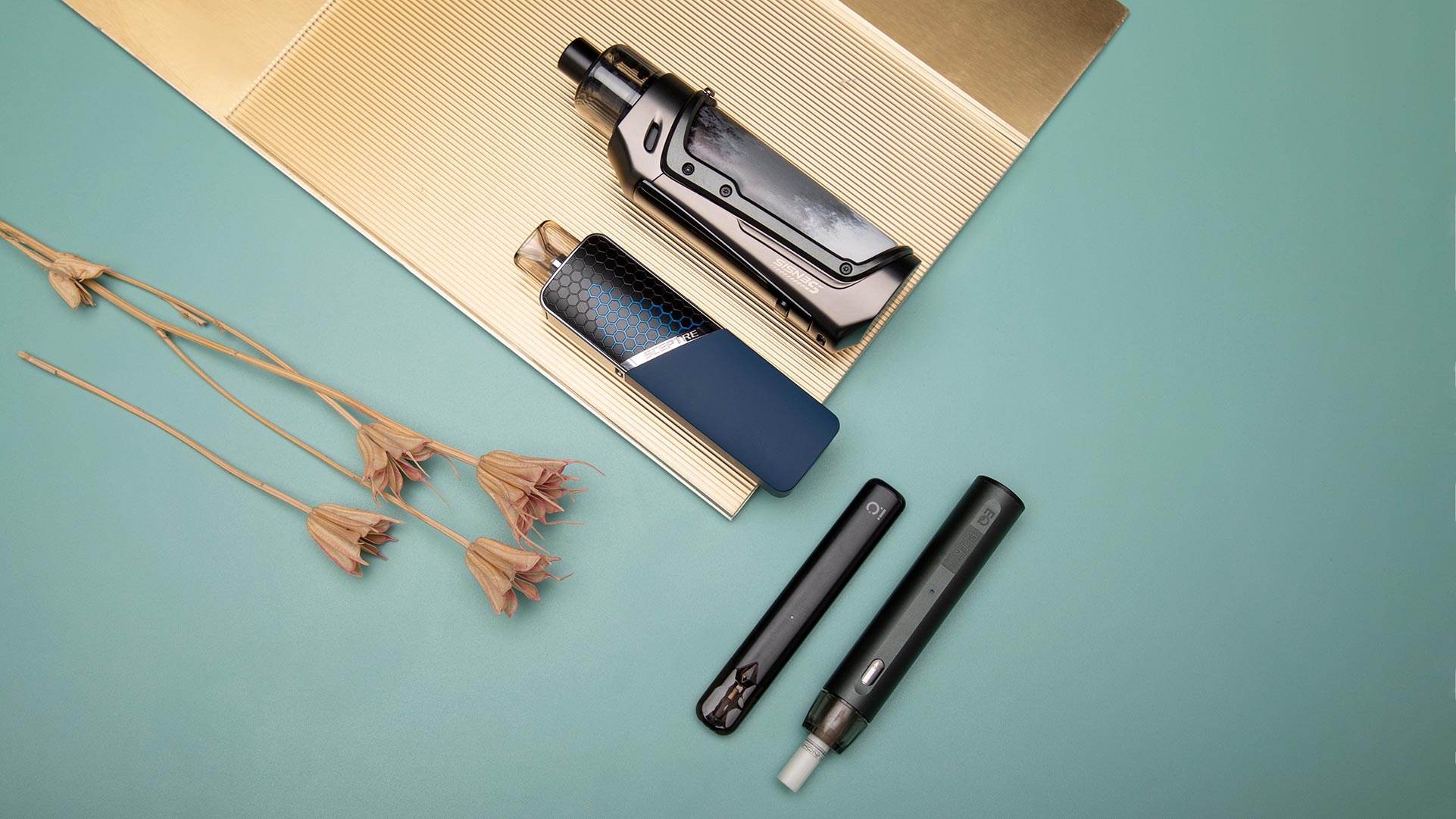 A pod vaping system is a vaping device with a self-contained removable pod that functions both as the atomizer and as the e-liquid storage. While a traditional vape atomizer screws into threading at the top of the device, removing a vape pod is usually as simple as lifting it – and while most vape tanks are glass, vape pods are usually plastic. The fact that a vape pod is made from plastic means that it doesn't need to be cylindrical in shape. Innokin and other vaping manufacturers have taken advantage of that fact by designing pod systems that are incredibly small, sleek and pocketable compared to traditional vape pens and mods.
An additional benefit of vape pods is that they're disposable for convenience. You can continue using a vape pod as long as you like. Once a pod reaches a point at which it no longer produces a good flavor because of the amount of e-liquid residue inside it, you can simply discard the pod and begin using a new one. Many vape pods have removable atomizer coils, however, which makes it possible to continue using the same pod indefinitely.
Pod vaping systems are always proprietary, which means that they work only with the pods designed for them. That's the main trade-off between pod systems and traditional vape mods. Pod systems are smaller, lighter, and more convenient. However, the fact that a vape mod uses a threaded atomizer means that you're free to remove the original atomizer and use a different one.
When pod vaping systems were first developed, they were designed primarily for beginning vapers. As a result, they generally had tight airflow characteristics and were optimized for nicotine salt e-liquid. Today, though, new devices like the Innokin Sensis EZ allow you to enjoy the pod vaping paradigm with any vaping style. Whether you prefer MTL vaping or enjoy a more flavorful restricted direct-to-lung hit, you'll find a pod system delivering exactly what you want.
Vape Pods: Summary
Proprietary; a pod system only works with the pods designed for it
Pod-based devices are available to suit all vaping styles
Self-contained, removable and disposable
Best vaping devices for nicotine salt e-liquid but can support all e-liquid types
Rebuildable Tank Atomizer (RTA)
Most Popular Rebuildable Tank Atomizers: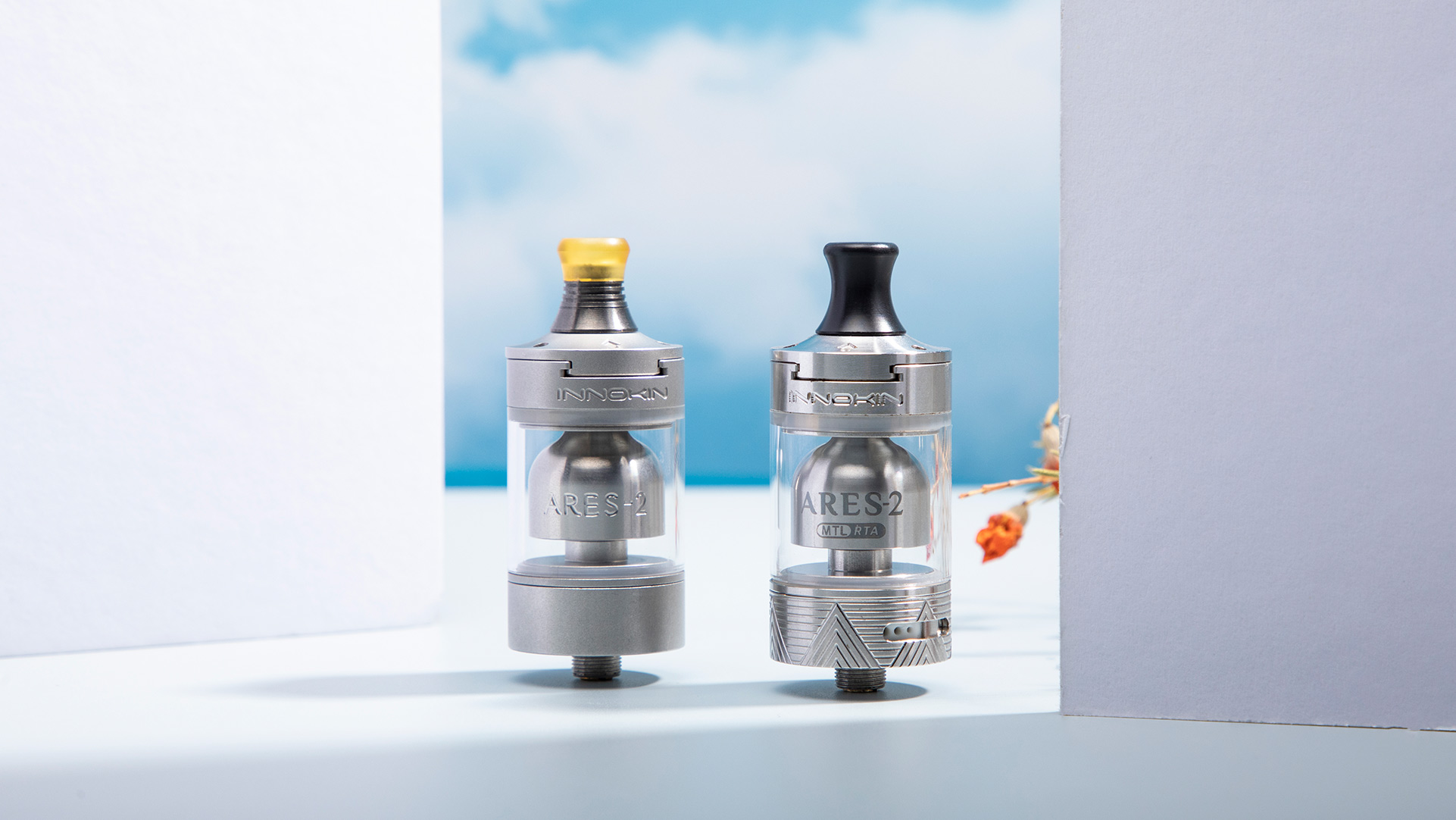 If you're unhappy about the amount of money you spend on replacement coils for your vape tank, it might be time for you to consider buying a rebuildable tank atomizer. With an RTA, you build your own coils from scratch rather than screwing pre-built coils into the base of your tank as you currently do. Kanthal wire and cotton are the two primary supplies that you'll need for coil building – and since it's easy to find those supplies in bulk, you'll find that building your own coils will reduce your cost per coil to a tiny fraction of what you're currently paying for pre-built coils.
Another benefit of building your own coils is that you get to choose the specifications of the coils you build. If you own a sub-ohm vaping device, you're free to build low-resistance coils for cloud chasing. If you own a lower-power vape pen, though, you can also build higher-resistance coils and enjoy a great mouth-to-lung vaping experience. Although using a rebuildable atomizer may sound a bit intimidating to you if you've never built your own coils before, you'll find that we've designed the Innokin Ares RTAs to be completely user-friendly for coil-building newcomers.
Learn more about the benefits of rebuildable atomizers.
Rebuildable Tank Atomizers: Summary
Compatible with most 510-threaded devices
Allows you to save money by building your own coils
Wattage requirement depends on coil design
Provides ample e-liquid storage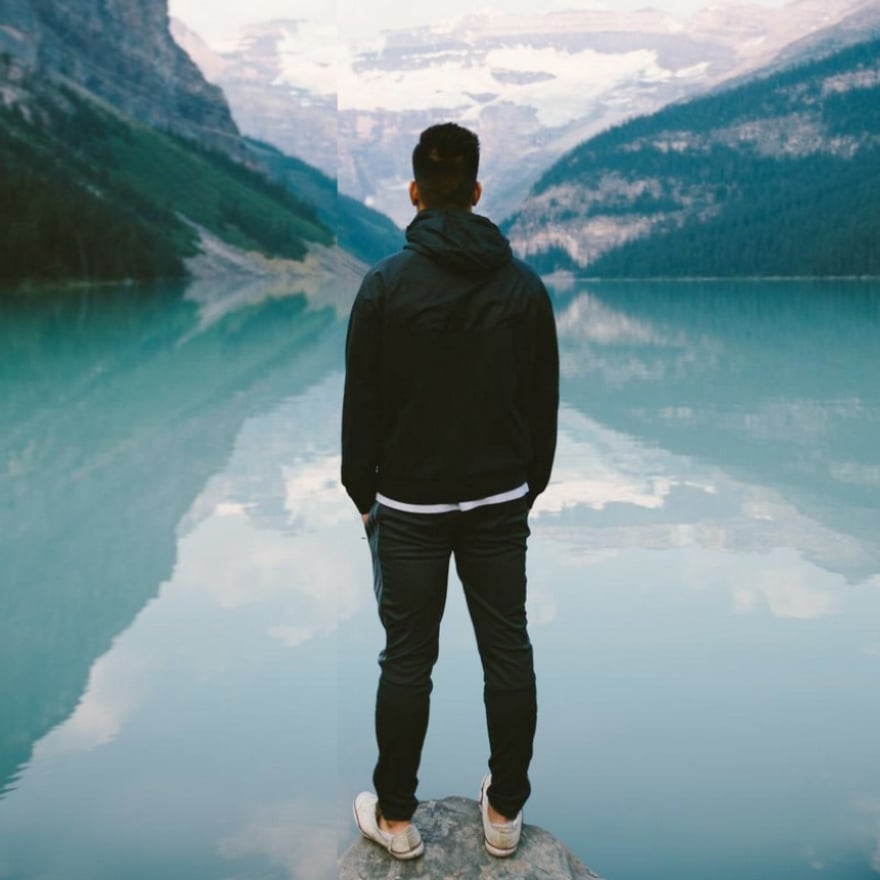 Hey! Hemok here, a vaping enthusiast with a passion for helping people quit smoking. My uncle was diagnosed with lung cancer a few years ago after smoking for more than 40 years. I do understand that quitting smoking isn't only a physical issue but also a mental one. It's just hard to go "cold turkey". I believe that vaping is one of the best solutions to make the switch only if you do it in the right way, and that's why I am here to share :)