One of the most important ways in which the vaping industry has changed over the past few years is that the devices people typically use have gotten smaller across the board. In the past, it was widely understood that you couldn't possibly expect to have a good experience with a vaping device that was anywhere near the size of a tobacco cigarette. If you were a true vaping enthusiast, you needed to have a vape pen that was as big as a flashlight or a vape mod that supported two batteries. The power requirements of the best vape tanks were so extreme that you simply couldn't get by with less.
These days, though, things are completely different. Using a mini vape isn't just a style decision because vaping devices have become more efficient and more satisfying than ever. Even with a tiny pod system that's comparable in size to a conventional cigarette, you can expect to have a spectacular experience; there's no longer a need to carry something that feels like a brick in your pocket. Whether you're a new vaper or an experienced vaper who's interested in downsizing a bit, only one question remains: What's the best mini vape on the market?
In this article, we'll describe some of the best mini vapes that we manufacture here at Innokin. You'll learn about the technologies and innovations that make those devices special, and you'll also come away with a better idea of which device is likely to be the best one for your needs.
First, though, let's start with a bit of basic information. Why are today's mini vapes so good that it's no longer necessary to buy a large device like a dual-battery vape mod if you want to have a great experience?
💡 Vaping 101: What about the types of vape kits?
As the name suggests, vape kits refer to vapes that contain multiple vape parts, which can be roughly classified into 3 categories. If you're interested in learning more about vape kits, check out the video above and let's dive in!
What Are the Features That Make Mini Vapes So Good?
We'll start this article with an explanation of the reasons why a mini vape should be on your radar in the first place. It used to be that you couldn't expect to have a good experience unless you had a device that offered enormous cloud production. What are the innovations that make today's mini vapes just as satisfying as the full-sized vape mods of the past?
Nicotine Salt E-Liquid Makes Mini Vapes More Satisfying
The biggest reason why the smallest mini vape pens are so much more satisfying than they were in the past is because the e-liquid itself has gotten better. Perhaps you're familiar with the relatively recent invention of nicotine salt e-liquid. Compared to traditional freebase nicotine e-liquid, nicotine salt is less alkaline and is, therefore, less likely to create a harsh sensation in the throat at high nicotine strengths. Because of the lack of harshness, nicotine salt vape juice makes it possible to use an e-liquid with a very high nicotine strength and still have an experience that's completely enjoyable.
Nicotine salt has the ability to deliver as much nicotine per puff as a tobacco cigarette – and when a vape juice delivers nicotine that efficiently, the size of the vaping device becomes irrelevant. Even if you're using the smallest mini vape on the market, you can still expect to be completely happy with your experience.
Mesh Coils Make Mini Vape Mods More Efficient
What if you're already a full-time vaper and aren't trying to quit smoking? In that case, nicotine salt e-liquid might be irrelevant for you because you're no longer using high-strength vape juice and have evolved toward a more flavor-focused vaping experience. Even if you're no longer using a beginner-oriented vape kit and have migrated to a larger vape pen or vape mod, you can still have a great experience with a mini vape mod because today's small vaping devices are more efficient than ever.
Today's mini mods can deliver room-filling clouds while operating at lower wattages and consuming less battery power, and mesh coils are the reason for that. Compared to a traditional vape coil, a mesh coil has the same surface area and much lower mass. Those characteristics allow a mini vape mod to offer the same vapor production and flavor quality as the much larger vape mod you might be using now.
With that basic information out of the way, let's take a look at the best mini vapes that we manufacture here at Innokin and learn more about the innovations that make them the best small vaping devices on the market.
Best Mini Vapes for Beginning Vapers
Innokin MVP Pod
The Innokin MVP Pod is simply the most modern small pod system in the world. It brings together everything that we've learned over the years about building great vaping devices into a single package that's inexpensive and completely easy to use even if you've never vaped before.
To create the MVP Pod, we started with a sleek metal case that's durable and nicely textured so as not to slip out of your hand. We further innovated on our basic design by designing a pod with super-smooth airflow characteristics to deliver the purest flavors that you've ever experienced with a mini vape. The MVP Pod changes power levels with the touch of a button and offers both manual and draw-based firing.
Innokin EQ FLTR
No vaping device in the world captures the feeling of a traditional cigarette like the Innokin EQ FLTR – and the secret that makes the EQ FLTR so faithful to the authentic smoking experience is its unique soft tip that feels just like the filter of a cigarette. The EQ FLTR uses automatic draw-based firing, and the 1.2-ohm Sceptre coil delivers thick clouds of vapor instantly when you puff on the filter tip.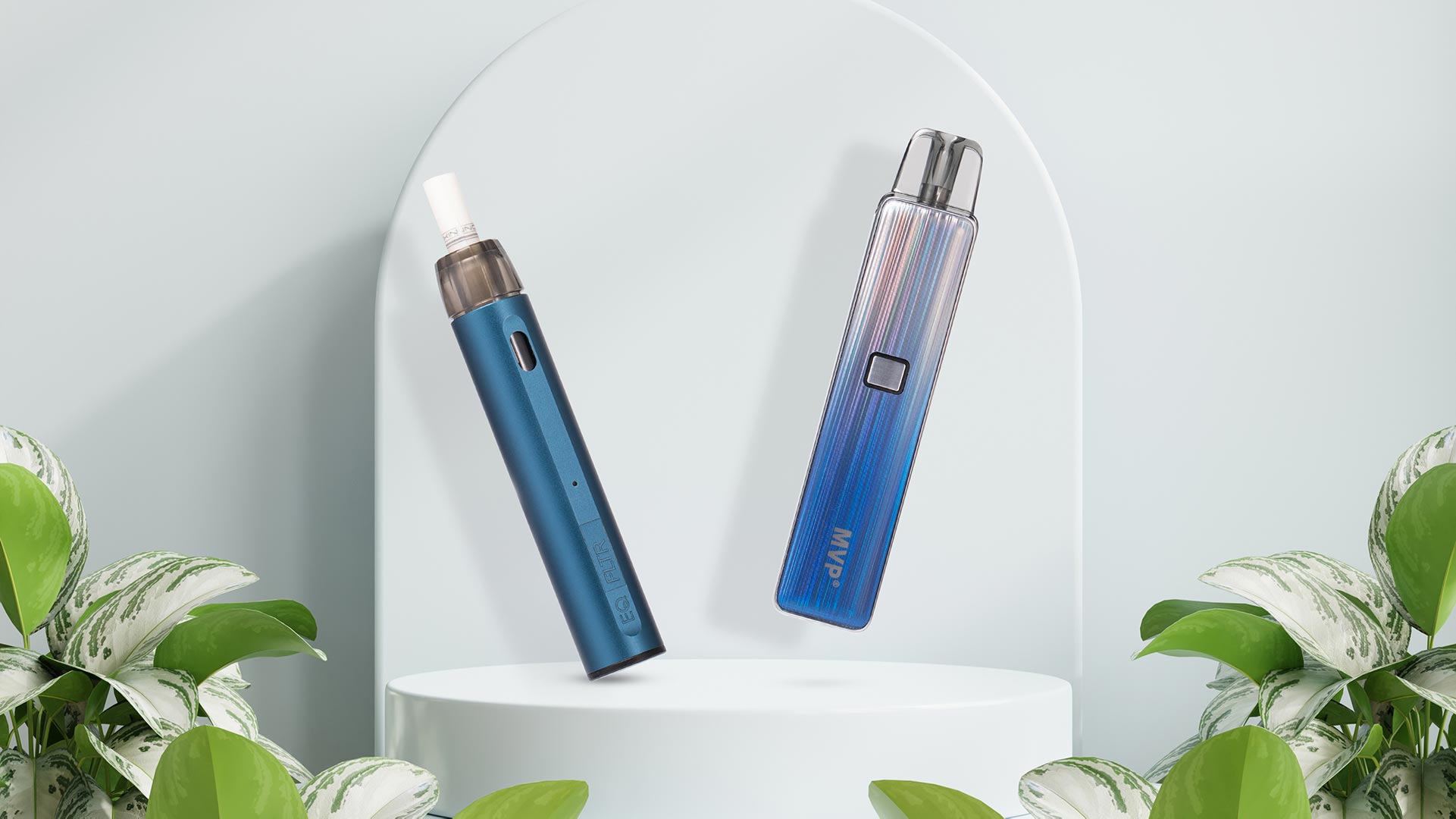 Best Mini Vape Pens for Intermediate Vapers
Innokin Sceptre
Offering two different coils and two wattage levels, the Innokin Sceptre is a perfect step-up device if you have a bit of vaping experience and are looking for a device that offers a little more power than what you're currently using. Replacing the coil in the Sceptre is incredibly simple; just remove the pod from the device and twist off the bottom cap to remove the coil. Select the 1.2-ohm coil for a refined mouth-to-lung vaping experience or install the 0.5-ohm coil for a restricted direct-to-lung hit with much bigger clouds.
With either coil, pressing the power button on the side of the device allows you to toggle between the lower and higher power levels of 8-9.5 and 18-20 watts. The Sceptre also allows you to customize your vaping experience even further with a built-in airflow dial situated at the bottom of the pod.
Innokin Glim
If a device like the Innokin Sceptre sounds a little complicated to you, you'll love the fact that the Innokin Glim offers an upgraded vaping experience without sacrificing the simplicity that you love. The Innokin Glim has all the characteristics that make smaller pod systems so popular, such as automatic draw-based firing and pods with built-in coils. However, it also offers greater airflow and a larger 550 mAh battery to give you bigger clouds and longer vaping sessions between recharges. You'll also love how easy it is to use the pod's spring-loaded filling hole. To fill the pod, just press the nozzle of your e-liquid bottle against the filling hole and squeeze.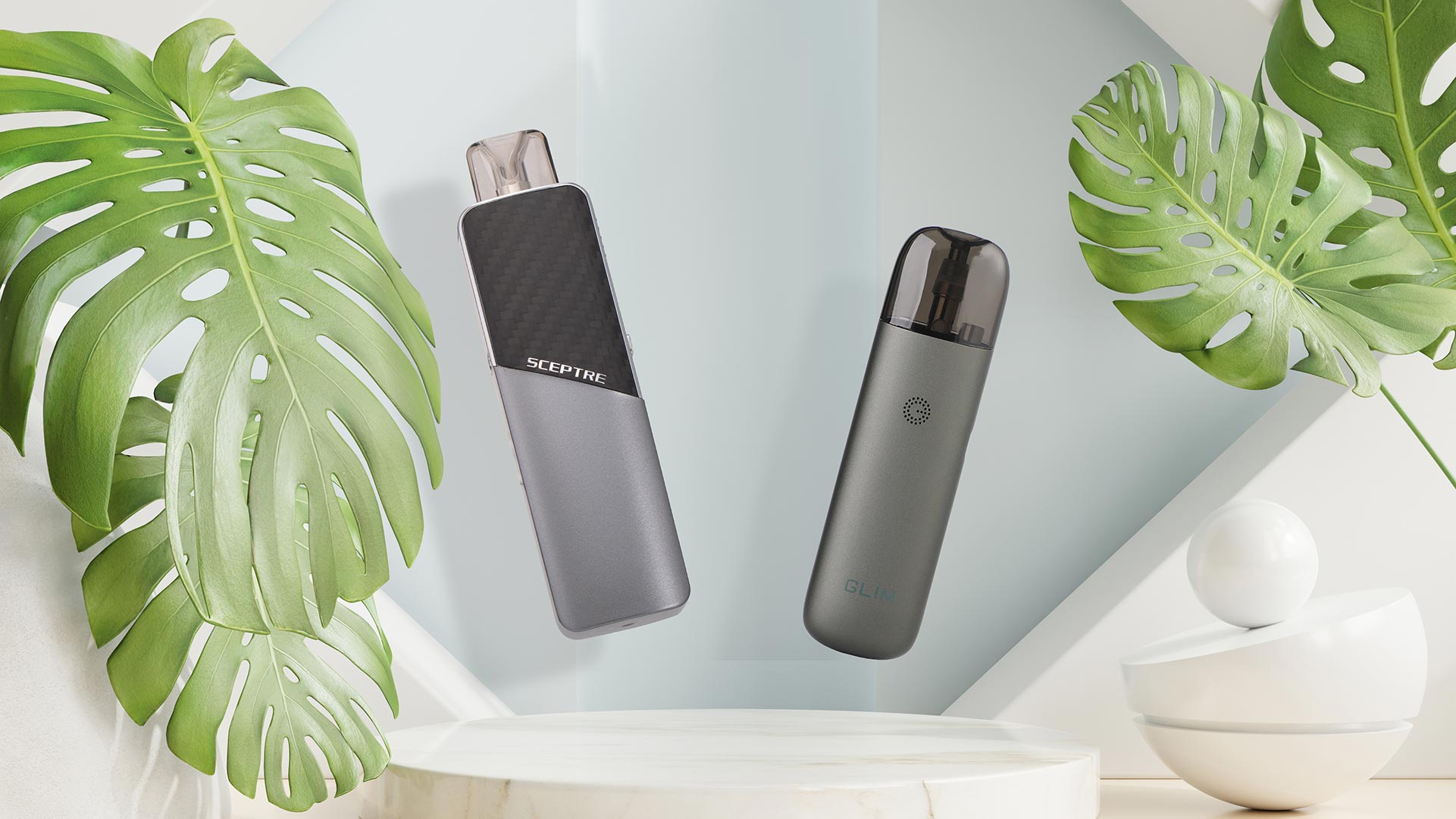 Best Mini Vape Mods for Experienced Vapers
Innokin Sensis
The Innokin Sensis is truly the most advanced mini vape mod on the market – and once you've tried it, you'll never want to own another dual-battery mod again. Using Alternating Current power delivery instead of the Direct Current delivery used by other vaping devices, the Innokin Sensis's exclusive FØ vaping mode offers the most stable and precise power delivery on the market. Another unique feature of the Sensis is Refresh mode, which automatically sends a low-wattage pulse to the coil between puffs to refresh the wick. Refresh ensures that every puff is always as perfect as the last, and it's another feature that you won't find anywhere else. The Innokin Sensis is a full-featured vape mod with fully adjustable power and airflow. However, it'll still feel completely familiar to you if you're upgrading from another pod-based device.
Innokin Kroma 217
If a pod-based vaping device isn't quite what you want, you might prefer a device that offers a more traditional tank-based experience. That's exactly what you'll get with the Innokin Kroma 217 – the most powerful mini vape mod on the market. The Kroma 217 operates at up to 100 watts with a 21700 or 20700 battery and at up to 80 watts with an 18650 battery. We've given the Kroma 217 the same Refresh feature that we introduced with the Sensis series, and the included Z-Force tank features a coil with a completely new feature that you've never seen anywhere else: DuoPrime wicking. The DuoPrime technology sandwiches a high-capacity wick between two mesh coils to give you thick clouds with bolder flavors and fewer dry hits – even at high wattage settings.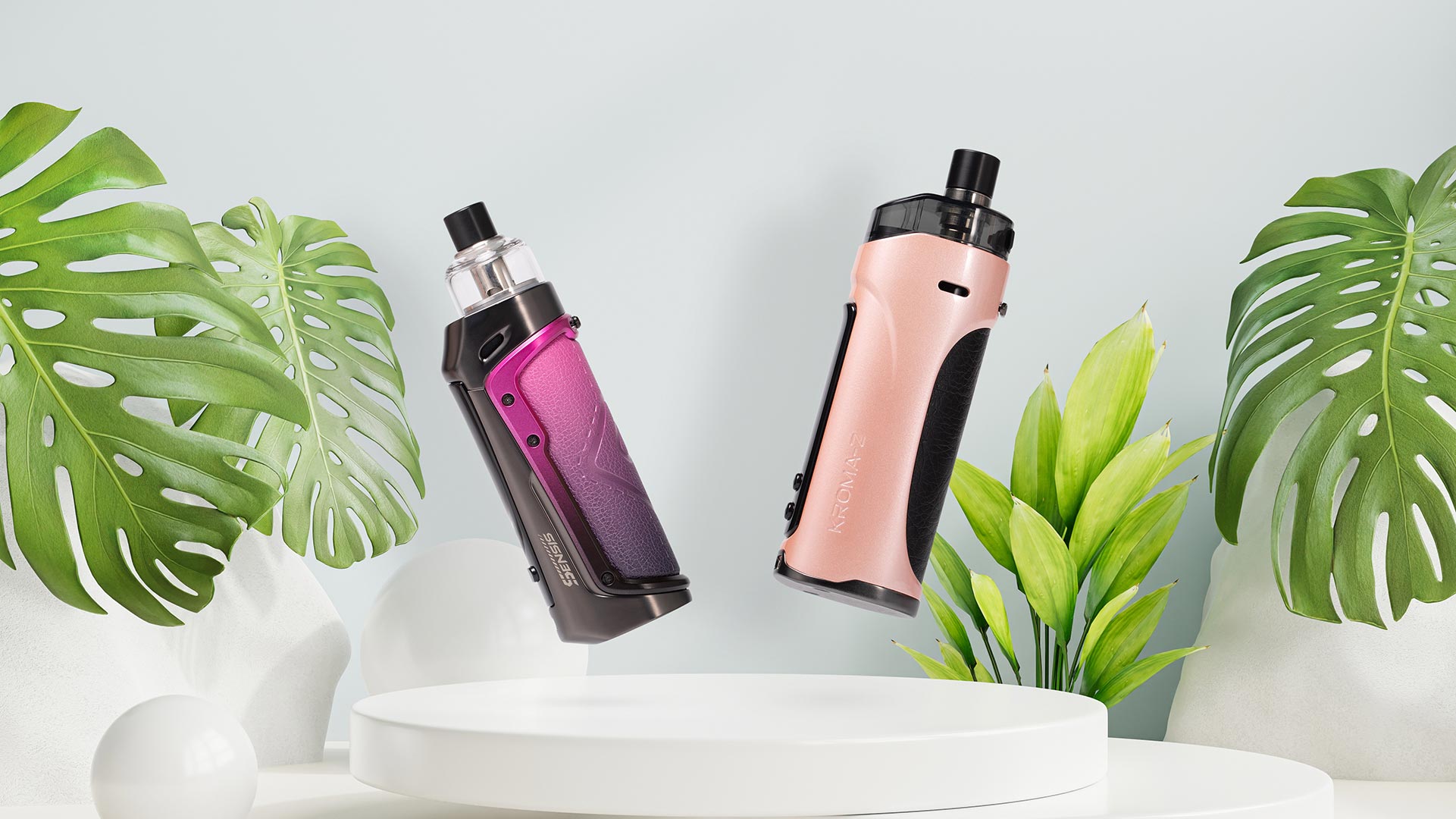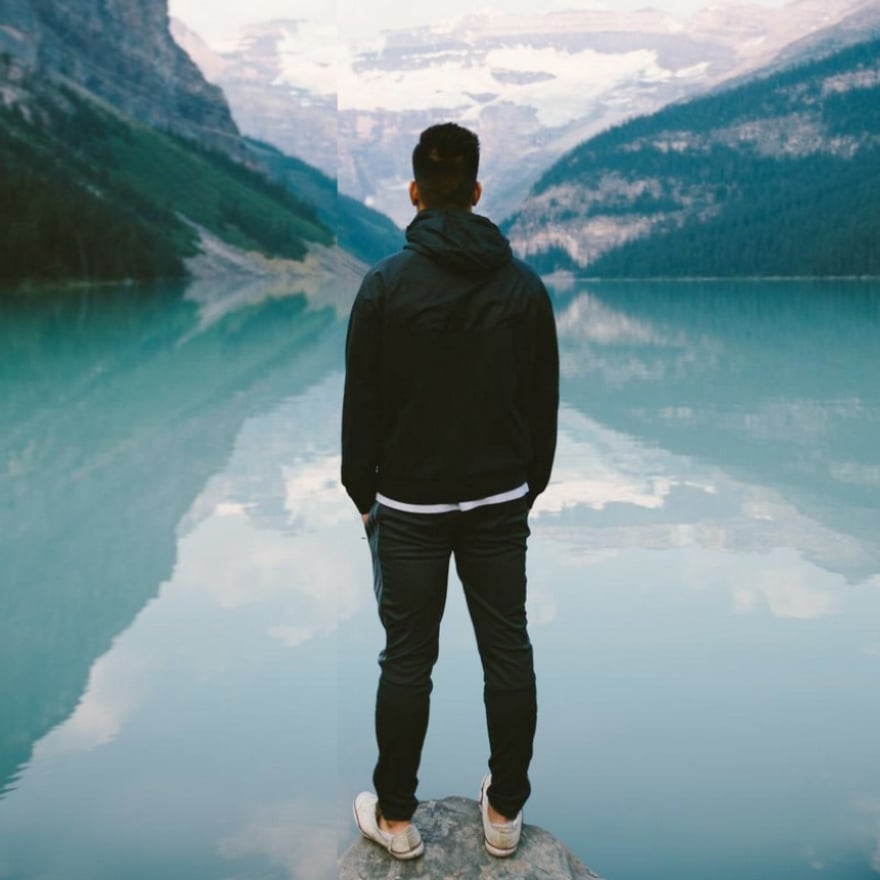 Hey! Hemok here, a vaping enthusiast with a passion for helping people quit smoking. My uncle was diagnosed with lung cancer a few years ago after smoking for more than 40 years. I do understand that quitting smoking isn't only a physical issue but also a mental one. It's just hard to go "cold turkey". I believe that vaping is one of the best solutions to make the switch only if you do it in the right way, and that's why I am here to share :)